Our Hot Springs facility works primarily in the manufacturing of sheet metal parts and assemblies. Radius Aerospace / Hot Springs uses a wide range of state-of-the-art metal forming technologies and techniques. Additionally, we offer several special and proprietary manufacturing processes.
Please see an overview of the capabilities and certifications of our Hot Springs facility.
President John Kelley
Director of Business Development Bob Casalino
Main Phone Number (501) 321-9325
Manufactures sheet metal parts and assemblies using a wide range of metal forming techniques and special manufacturing processes.
1923 Central Avenue
Hot Springs, AR 71901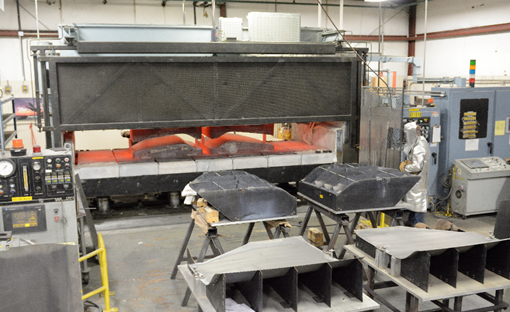 Sheet Metal Parts Including:
Skins
Leading edges
Doors
Longerons
Webs
Formers
Covers and ribs
Sub-Assembly Items Requiring a Combination of Forming & Chemical Milling:
Skin assemblies
Door assemblies
Panel assemblies
Skid tubes
Cross tubes
Fairings
Elevators
Stabilizers
Console assemblies and floor beam Assemblies
AS9100 Rev D
NADCAP
Heat Treat
Chem Process
NDT
Sheet Metal Fabrication
Assembly
Aluminum stretch form and hydro form
Titanium SPF & Hot Forming
Chemical Milling
Metal Processing
5 Axis CNC Routing
To learn more about Radius Aerospace / Hot Springs, Arkansas, please call Bob Casalino directly at (501) 622-4201 or email sales@radiusaerospace.com